Jesus Is NOT the Reason for the Season
I tried.  God knows that I did.
I tried to find the place in the Christmas holiday where He and I meet.
As is traditional for us, my family ended each day in December by reading the record of Jesus's birth in advent calendar form.  But this year, I couldn't stay with the story.  There were just so many others things to think about.
I brought Casting Crowns into my kitchen every time I cooked . . . and this Christmas, I cooked till my oven and I were worn-out and weary.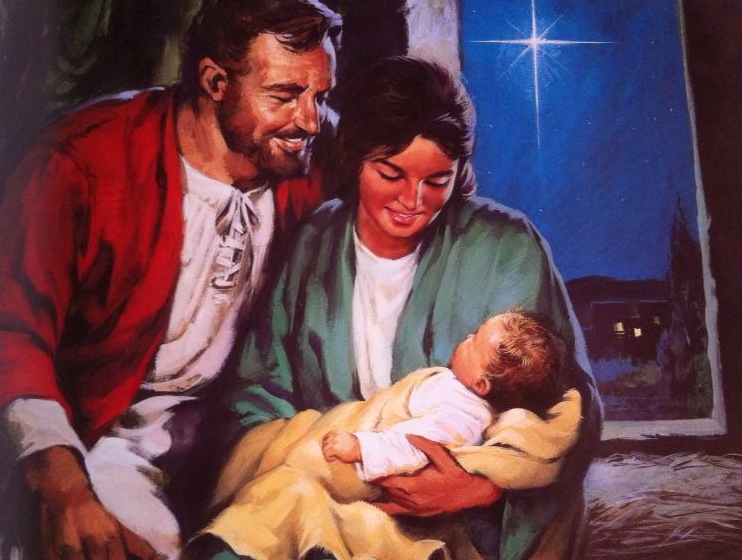 "Love is raining down on the world tonight
There's a presence here I can tell
God is in us, God is for us, God is with us, Emmanuel"
I sang the words.  But I wasn't moved by them.
When I didn't feel God in that chorus, I broke out the big tunes.  I put Josh Groban in my CD player, turned the volume to wake-your-neighbors-from-a-deep-hard-sleep and waited for the power of It Came Upon a Midnight Clear to open the heavens and show me the face of Jesus.
I couldn't see past the timer on my oven and the cinnamon snack mix inside it.
Christmas cards, Christmas carols, Christmas sermons and seasonal blog posts all came to me repeatedly reminding me to look for Jesus in the holiday chaos.  I looked but I didn't find him.
Even Linus's explanation of what Christmas is all about did not affect me.  I was, however, once again amazed by the creative utilization of his blue blanket.
This year, I couldn't see past Christmas to find Jesus.
But that's okay.  Really, it is.
Because Jesus is not the reason for the season.  He is not the true meaning of Christmas.  He is not the "presence" behind the presents.  And . . . please don't stab me with the crucifixion nail you have hidden in your Christmas tree . . . He is not the Christian mascot for the month of December.  I have grown to dislike the Christmas cliches that make me feel as if he is.
Jesus is much bigger than those words imply.  And he will be waiting for me when December is gone.
He will encourage me with the promise of January.  He will pick up and put down my feet when the dreariness of February sucks out all my strength.
He and I will dance as the world comes to life in March and April.  He'll keep me company in May when my husband leaves on his annual canoe trip which most always falls on our anniversary.
Jesus will meet me in Miller Park every day of June, July and August to talk about life and show me Himself and haul my tired backside up the the big hills on the walking trail.
He'll be there when my kids go back to school in the fall and the changing season reminds me that I can't hold onto the days of my life.  Then he will stand behind me and wrap his arms tightly under my arms to hold me up as December crashes down around me again.
Don't tell me to look for Jesus in December.  I need him to be the way and the truth in every season of my life.