Mother of the Bride
It's been a little over a year since I stood in our front yard on a beautiful day in September, surrounded by family and friends, and watched my oldest daughter marry her love in the delightful wedding ceremony we planned together.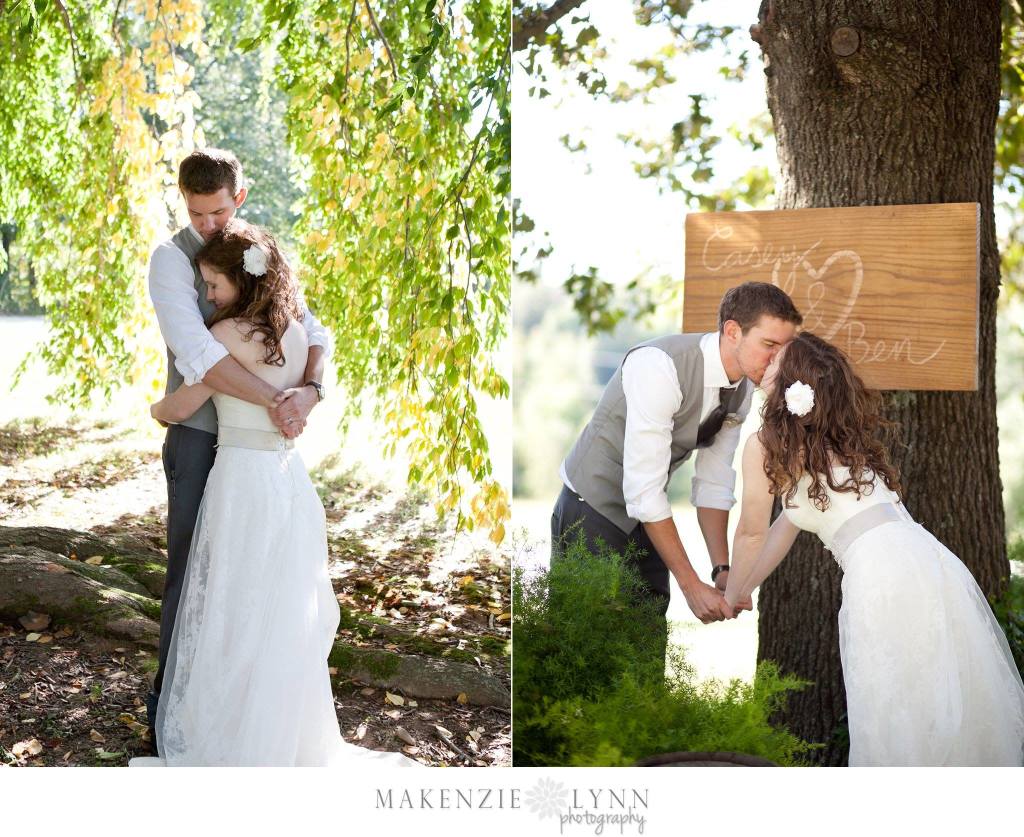 Do the words of that sentence convey peaceful, stress-free memories of that day?  They do, don't they?
Do you see, peeking through the lines and phrases, ghastly, panicked memories of a sick and sobbing bride, 200 chairs that didn't arrive until just before the ceremony, or a malicious thunderstorm that hovered over western Kentucky for several days then swooped down to attack the rehearsal and threaten the wedding?  I don't either!
That means I can now write about my daughter's wedding.
I stand behind a statement I made after my son got married.  (I would stand behind it in a chicken suit if that would cause people to pay more attention.)  On the day a woman decides to have children, she should hit her knees, lift her voice to heaven and beseech . . . spelled capital B E G, exclamation point, exclamation point . . . the Lord for boys. As the mother of the groom, there is a chance she will have enough physical, mental and emotional energy to survive the wedding preparations without melting into a puddle of pooped poverty.
However, I have hope to offer mothers with daughters.  As a girl, I did not grow up daydreaming about wedding ceremonies.  As a college student and young bride, I was somewhat lackadaisical about planning my wedding and left many of the decisions to my own puddle-of-pooped mother.  As the mother of two daughters, I hoped early-onset Alzheimers would set in before I had to plan their weddings.  So I can say with confidence and credibility . . .
If I can plan a wedding, anyone can do it!
Here's how I made it through: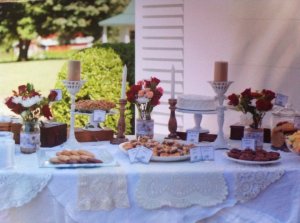 In the war against wedding stress, I recommend having fun with your daughter whenever possible.  Casey and I danced as she chose music for the reception.  We had popcorn parties during our nightly viewing of pinterest weddings.  And when stress began to build, we shopped together for wedding desserts.  We shopped together for chocolate wedding desserts and blueberry wedding desserts and chess bar wedding desserts and more chocolate wedding desserts and . . .
Warning:  There are bakery owners who charge prospective brides to sample their products.  Stay away from them!  If you are dealing with the stress of planning a wedding, you need more than cake to taste.  You need free cake to taste.  It'll be the last thing you get free for a very long time.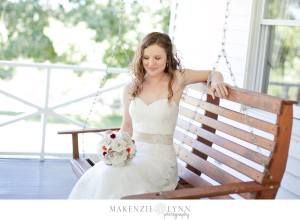 In the war against wedding stress, if you can find the right dress, you have won half the battle.  When Casey looked in the mirror and said, "I feel beautiful," we knew we had found the right dress for her.
I knew I had found the right dress for me when it met all my requirements.  It looked good with the wedding colors.  It covered all the imperfections between my neck and my knees.  And I could wear it and breathe at the same time.  It also twirled!  Every female, no matter her age, feels better in a dress that twirls.
I might have actually won the war against wedding stress if I had known then all the little things I know now:
—-Having a wedding in our yard means twice the work.  But it also means the Tylenol and trailer load of diet coke I need to make it through the wedding day are just steps away.  As are the band-aids which is important because . . .
—-Wearing pretty, new shoes for the first time on the day of a wedding is a huge mistake.  By the end of Casey's reception my heels were raw and blistered causing me to dance like a wounded duck.  Having lived all my life rhythm-challenged, this would not have been such an issue if I had realized . . .
—-When dancing at my daughter's wedding reception, I should think twice before choosing to dance near the woman we are paying to take pictures.
—-There are 285 shades of red.  Expecting bridesmaids to find dresses in the same shade is senseless.  Give up on that one early and concentrate on finding shoes they all like,  jewelry that suits each of them, and toenail polish that screams, "OMG, tooooo cute!" Only the closest of relationships can survive those decisions.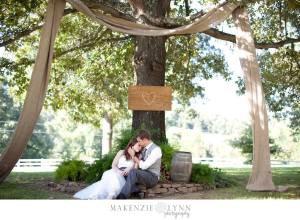 —-Burlap, when bought in large quantities will make the house smell like budweiser horses have come to visit.
—-Although my husband and sons, appeared attentive to our wedding conversations, they had actually gone to the happy places in their minds.  Next time, we should just leave them there until we need them to carry something heavy or escort somebody down an aisle.
—-Above all, I learned my family and friends will be there when I need them . . . when I need them to plant flowers and beautifully arrange them in my yard . . . when I need them to take burlap and create the perfect setting for a wedding . . . when I need them to show up on my daughter's wedding day to clean my bathrooms and serve food to our guests . . . and, most importantly, when I need them to tell me I look good in my twirly dress.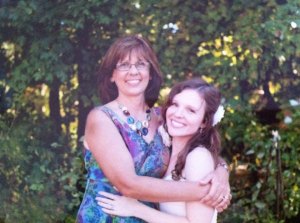 Despite the hurdles we jumped . . .  and the ones we hit at a dead run, my experience as the mother of the bride ended well.  The wedding was lovely.  I lived to write the story.  A really good guy joined our family.  My husband and I still speak.  And my daughter, the most beautiful of all brides, will owe me for the rest of her life.