Micah Becomes a Man
Tomorrow, my son, Micah, graduates from college and prepares to take on the world as an adult . . . as a man.
Let's see . . .
Desperate need for attention and affection?
Check.
Primarily views life as a competition and cheats to win?
Check.
Domination instincts have matured enough to cause him to challenge his Alpha Dad for control of the television remote control?
Check.
Can urinate on every bathroom surface in one elimination?
Double check.
Yep, . . . he's officially a man.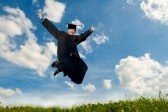 First published May 11, 2012