Beyond James Taylor
Last week my husband and I were given floor seat tickets to a James Taylor concert at The KFC Yum! Center in Louisville.
Just taking a moment here to wonder:  Who names a 238 million dollar arena that seats 22,000 people The Yum! Center?  Surely, the University of Louisville basketball team finds it difficult to intimidate when the banner over their home court flies the word, "Yum!".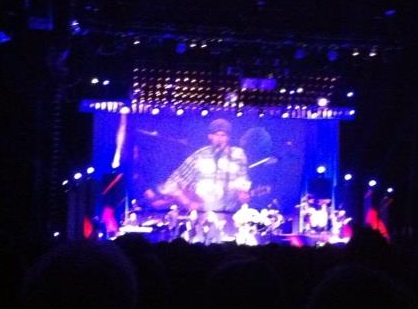 It was the third time we have seen James in concert and, by far, the best.
Just stopping for a little bit to note:  I have never met James Taylor.  But I'm pretty sure the massive pleasure his music has put in my life and the many dollars I have, in return, placed in his pocket have put us on a first name basis.
With the first notes of Something in the Way She Moves, I settled into the music. Two songs later, the harmony of Lo and Behold wrapped around me.  Then the lyrics of Copperline carried me away to a time in the past.
But, it was Country Road and Carolina in My Mind that overwhelmed me.  As James Taylor sang, the room filled with his music . . . with the beauty and the aesthetic power of his music . . . and, then with the Creator of his music.
I don't know whether or not James sees God.  I very much hope so.
Just pausing here to be completely truthful:  For James' sake, I hope that he has grabbed hold of everything Jesus can give to him.  Selfishly, I sooooo hope he has. Because, among other wonderful things, Jesus can give him a mansion close to mine.  When the angels are organizing the neighborhood sing-offs in Heaven, I want to be on James Taylor's team.
But, he may not see God with understanding.  He may be convinced that his talent and perceptions fashion his songs.  He may believe the birth of his music comes from inside himself.  If so, he is short-sighted.  And he is mistaken.
The same artist that placed the sea beside the shore placed the voice in James Taylor.  The same hand that paints the sunsets, guides James' fingers on the strings of his guitar.  Beauty in all forms, even when disclosed by the unredeemed, springs from the hands of God, circles around his being, and resounds with his praise.
Whether or not James realizes it, God was there while he sang . . . in a realm just beyond the stage.  I saw him.
And, even if James didn't say, "Thank You!"  I did.  When God created James Taylor with the ability to make music, He gave me a gift that I very much enjoy.  I'm learning not to separate the gift and the giver.
During the music of Country Road and Carolina in My Mind, I swayed with the rhythm and I tapped my foot to the beat.  I smiled because James was smiling and my heart was warmed by the sound of his voice.  I thanked God for the man and the guitar and the melody and the night.  Then I raised my hand just a little bit because while James Taylor was singing, I was worshiping.
Just ending with an acknowledgement:  I realize that some people don't look for God in the secular world.  But, I think that I might think there is no secular world.  Although scarred by sin, it is all his creation and we can see reflections of him everywhere.  
And some people may think a child of God can not worship to a James Taylor song.  If so, they are short-sighted.  And they are very mistaken.